Are you looking to freshen up the look of your house but are not sure what to do? Or maybe starting any home design project in your free time sounds daunting?! I found a few great ways to update the look of any room. Luckily, they are also easy to do and very cost effective: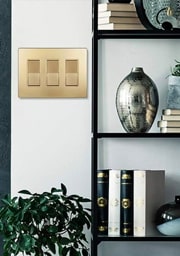 Switch It Up – Change the lighting face plates around your house. All you need is a screwdriver and some hardware. Modern face plates are available on Amazon for $7 in a variety of colours. You can also switch out your old vents for newer vents in matte black or brass. Adding splashes of colour in each room goes a long way towards updating the look of your home at a low cost. A few new throws or pillow covers to match your new face plates will help bring the whole room together.

Decorative Knobs – Bring some character into your home by trading your conventional door knobs for a more decorative or antique look. You can update the knobs for both exterior and interior doors including closet doors, cabinets and even drawers. It's amazing how a small change can give your home a whole new look.

Trim Your Walls – All you need is some glue, trim and paint to create this criss- crossed design to bring a little fun to any wall. If you are in the mood for a soft colour for your bedroom or living room, head over to Benjamin Moore and pick up a few cans of Soft Fern (2144-40). Another popular colour for 2019 guaranteed to give your house a contemporary feel is Beau Green (2054-20). If you're looking to make a small change to any room, consider a trimmed accent wall with a colour like Hunter Green (2041-10) or Hale Navy (HC-154).

Dress up your light fixtures – I love the look of this sunbeam around a drab ceiling light. To complete this look, purchase the sunbeam mirror at home depot for $45, pop out the mirror and glue the sunbeam on your ceiling and voila! If you want to continue updating the lighting in your home, consider switching out your bulbs to a softer hue for the winter months or swap out a few lampshades in your home for some of the trendy colours this fall – ochre, indigo or burnt orange!
Some other easy updates include a DIY painted plywood headboard, adding a shelf above a doorway, or turning an unused closet into an at home work space. All easy projects that can be completed in a few hours and won't break the bank. We are looking forward to hearing about your fall home updates!